Jul 2
SpaceX Dragon CRS-15 before berthing
ISS and SpaceX Dragon CRS-15 few hours before docking
SpaceX's Falcon-9 rocket and the 15th Dragon cargo vehicle has been launched on 29th June 2018. The target date for Dragon capture by Canadarm-2 was 2nd July. Although we didn't have evening passes at this time, instead there was a predicted solar transit of the International Space Station at 7:53UT/9:53GMT from Luton, UK – only a few hours before capture.
There is no website currently that will accurate show the position of the Dragon cargo ship, but I knew it shouldn't be farther then a few kilometres/miles from ISS. Without any certainty the only thing I could do is driving to the transit location positioning myself to the centreline and hoping to see the tiny ship too.
When the transit happened I only saw ISS on my laptop screen, no sign of Dragon at that point. Packed away, drove home and took a careful look at the frames. Dragon CRS-15 is so tiny that only a few frames show it as a small dot, but it is definitely there.
This kind of strong processing was much needed to be able to bring out the best from these frames. Had to be very firm with post processing, otherwise Dragon remained too faint. Dragon quietly following the space station and in a few hours time it was captured by the above mentioned Canadarm-2. 
Epic!
A few details about the transit:
ISS apparent size at transit: 40.3″
Distance at transit: 686.8km
Transit duration: 1.3s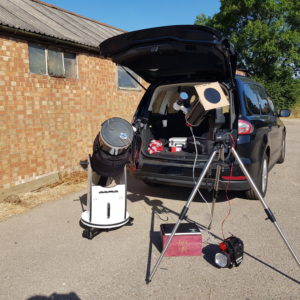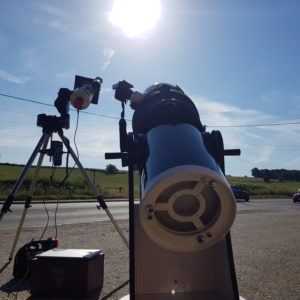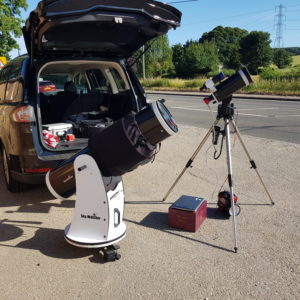 Equipment:
Skywatcher 127/1500 maksutov
ASI224MC colour camera
0.5x focal reducer
02/07/2018